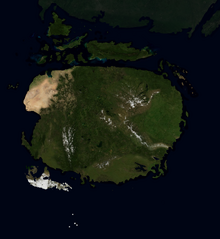 The following is a list of sovereign states and dependent territories in Itzamna, including their capitals, official languages, currencies, population, area, and GDP per capita at PPP.
Itzamna is bordered on the west by the Pastian Ocean and on the east by the Atian Ocean. Tikal and the Ceridwen Sea lie to the north and the Algorian Ocean lies to the south. Itzamna has an area of approximately 33,507,204 square kilometers (33,521,687 mi²), or more than 15.3% of New Gaea's surface. The population is almost 425 million, according to estimates complied by the COFR. Itzamna ranks second among all inhabited continents in area and population (both after Tikal).
Sovereign states and other territories
Edit
     Overseas department or dependency
Flag
Name
Official name
Form of government
Capital
Official language(s)
Atia (Duwamish)
Territory of Duwamishite Atia
Territory of Duwamish
Whidbey
Atian,
Escambian
Carpathios (Posillipo)
Royal Commonwealth of Carpathios
Commonwealth of Posillipo
Carthos
Posilliponian, Insulonian
Gansbaai
The Royal Gansbaai Kingdoms
Sociailist federation
None[1]
Gansbaaian,
Insuloian
Insulo
Republic of Insulo
Federal constitutional Republic
Erikkson
Escambian,
Insuloian,
Puertian
La Palma (Insulo)
Territory of La Palma
Territory of Insulo
Santa Cruz de La Palma
Insulonian
Platte Republic
Constitutional Republic of the Platte
Constitutional Republic
Cedar Bluffs
Escambian
Polinesio
Republicá Polinesió
Constitutional Republic
Villa Francís
Insulonian
Posillipo
United Kingdom of Posillipo
Senatorial Monarchy
Agrilos
Etruscan,
Palobian
T'nah Air (Insulo)
Federated Nayamam States of T'nah Air

Autonomous Region of Insulo

Dzibilchaltún[2]
Nayaman, Insulonian
This table is incomplete.
Demographics and geography
Edit
     Overseas department or dependency
Name
Area
(km²)
Population
Map
Atia (Duwamish)
1,137,860
3,560,330
Carpathios (Posillipo)
527,238
2,443,000
Gansbaai
1,733,694
9,789,702
Insulo
6,490,719
74,357,451
La Palma (Insulo)
170px
Platte Republic
170px
Polinesio
170px
Posillipo
T'nah Air (Insulo)
9,543,000
This table is incomplete.
Economic statistics
Edit
     Overseas department or dependency